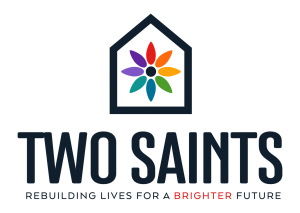 The Homeless Period Southampton is thrilled that we are now providing donations to Two Saints Limited.
Two Saints are a charity that support people who are homeless, vulnerable or at risk of becoming homeless, and help them to get back on their feet. By providing client led housing & support, improving health & wellbeing and building on individual's skills they aim to break the cycle of homelessness, poverty and exclusion.
In the past year, they have provided over 8,500 nights of emergency accommodation to almost 1,000 people; all of their main services have continued to operate throughout the pandemic.
Two Saints have a demand for toiletries and sanitary products on a daily basis, and were especially in need of tampons, disposable razors, shaving foam and deodorants for both men and women. We don't have huge amounts of razors and shaving foams donated but we were able to fill up a bag with these and other toiletries that we hope will be of use, and we'll be adding those items to our regular shopping lists for the future as well.
Emma, a team leader from Two Saints said:
"Donations are always greatly appreciated as they support our homeless community to feel welcome when they arrive at the Southampton Day Centre. Often these extra gestures can brighten up someone's day, make them feel valued and encourage them to look after themselves."
We're super excited to be able to provide some of the things they need and we hope that it will make a difference to Two Saints and their users. Big thank you as well to Sophie who did the delivery for us!